Finally! Become A Profitable Stock Trader in just 30 minutes A Day (Without The Hype or BS)
(So you DON'T have to spend hours a day reviewing charts and planning your trades)
✔️ Get profitable
✔️ Beat the market
✔️ Save time
✔️ Reduce risk
From: Adrian Reid, Founder of Enlightened Stock Trading
RE: Learn Stock Trading
Dear Stock Trader,
If you want make money in the stock market by spending just 30 minutes a day on your trading, build your wealth and freedom, and trade with confidence knowing your rules are profitable, then this is the most important letter you'll read all year!
Here's why…
Because in today's stock market buy and hold is dead, and the volatility will kill you if you don't have a proven trading edge.
While Mutual Fund Managers will tell you buy and hold is the only way to invest, it is the only way THEY can invest… but YOU have choices which a Mutual Fund manager cannot make.
A Mutual Fund Manager has to stay 100% invested in stocks, and they have expenses you don't have as a private trader, so the best they will do is achieve single digit annual returns while suffering through eyewatering drawdowns like the 35% drop during Covid or the 57% decline during the 2008 bear market.
I don't know about you, but I just don't think that is a very good risk / return profile!
So more and more people just like you are looking to trade and manage their own investments – looking for better returns with lower risk is completely rational.
The trouble is that new traders are blowing up their accounts quicker than ever because of the market volatility and sudden shifts like we experienced during the Covid crisis. Plus the huge range of opinions and information on social media is making consistent and profitable trading decisions harder than ever.
All of this is causing traders like you to be confused how to start, be unsure of exactly what stocks to buy and when to sell them.
To survive, you have to learn to trade profitably fast…
The best way to do that is by learning to trade systematically, and the best way to do that is to join System Trader Launchpad!
Here's how and why I can make you this promise…
My name is Adrian Reid and I'm an expert on Systematic Stock Trading
I've traded stocks profitably for over 20 years, built multiple 7 figure trading accounts and trained hundreds of traders just like you from all over the world to make money trading stocks systematically in just 20-30 minutes a day.
If you are new to trading and trying to figure it all out on your own or are just not 100% confident you have a profitable trading method then you are wasting time and leaving a huge amount of money on the table.
Every day that goes by there are countless trading opportunities you are missing, and the power of compounding is working against you.
According to Finance Magnates, only 3 percent of traders make money, with less than 1 percent of daytraders making more than minimum wage! To win in the markets you need a real edge and a method that works – this is something that most traders just don't have.
The best way for you to get an edge is to learn to trade with a proven trading system!
Two of the largest and best performing hedge funds over the last several decades are systematic funds – Jim Simmons' Renaissance Technologies (Medallion fund) with 66% average annual returns since 1988 and Ray Dalio's Bridgewater Associates which manages about $160Billion.
Some of the biggest and best traders in the world use trading systems to guide them, and you can too! Here are testimonials from people just like you who started with Enlightened Stock Trading and got results…
Now I know you are probably thinking "But I can't do that, I am not a computer coding genius, it sounds too hard and complex for me". The great news is that System Trader Launchpad works for all types of traders, regardless of your experience and coding skills. This is because it starts with the basics and gives you exactly the knowledge you need to succeed.
Plus the great news is good trading systems are surprisingly simple. We are not talking about pages and pages of confusing code… we are only talking about a handful of simple, logical trading rules that anyone can understand.
In fact one of my successful students (Sigi from Australia) was concerned about whether she could do it because just weeks before starting System Trader Launchpad she had not even heard of the Dow Jones and had no trading experience at all. After completing System Trader Launchpad she is now following the systems and trading with confidence! 
In Fact, Here's Just The Tip of The Iceberg of What You Get in System Trader Launchpad…
You discover how to trade with proven systems that actually work so you can profit consistently trading stocks
You save years off your learning curve, so you can compound your wealth sooner
You avoid uncomfortable drawdowns by managing your risk correctly so you can sleep well at night AND make money
You skip past all the mistakes and obstacles that stop most new traders from making money so you can get ahead sooner
You will get a profitable trading method in place in just a few weeks (or even less) so you don't have to waste years learning
You know exactly when to buy and when to sell, so you will never have to go hunting for trades or tips ever again
You have the support of an amazing community of traders to answer all your questions so you will never get stuck
You cut 3 years off your learning curve and trade profitably in just 3-6 weeks so you can start growing your wealth sooner
Most traders take 3 years to figure out how to trade profitably. But with System Trader Launchpad you will cut that to 3-6 weeks!
So you can be dramatically wealthier with all the extra compounding – That could be hundreds of thousands of $$$ extra because you learned to trade profitably fast!
Think about this…
How good you will feel when you are making money trading without taking tips from anyone
How relaxed you will feel knowing you have a consistent process that removes all of the emotion
How confident you will feel when you have a proven trading system that eliminates the guesswork
How empowered you will feel when you are 100% in control of every aspect of your trading
When you are trading with your own trading system, think about the extra wealth you'll generate to support your dream lifestyle and create a legacy for your family!
This powerful program will put you among the top 5% of traders who actually make money and build real generational wealth for their families, regardless of your trading experience to date.
So Here's The Bottom Line With System Trader Launchpad.
You're Going To Get… 
LIVE 6 Week System Trader Launchpad Masterclass
This 6 Week LIVE Masterclass will launch your systematic trading journey. We take you step-by-step through the systematic trading process from start to finish so that you know exactly what you need to do to trade with confidence.
2 Complete Trading Systems
These two trading systems are fully coded and ready to go. With a trend following system and a mean reversion system that can be applied to multiple markets (US, ASX and other markets) you will be ready to trade as soon as you have completed the program. 
Trading Software & Data Setup Session
You get a step by step guide to setting up your trading software and data so you know exactly what to do, even if you are not a computer genius. You can attend the live trading software & data setup session so you can ensure you are set up correctly.
You also get access to free trials of the Amibroker Software and Historical Data so you don't have to spend any more until you know system trading is right for you!
System Trader Launchpad Support Group (LIFETIME ACCESS)
Trading is a lonely profession, but you never have to trade alone or struggle for answers because you get LIFETIME access to the System Trader Launchpad support group so that you can connect with other traders on the same path, ask questions and get support in a moderated, safe, positive and supportive environment. 
System Trader Launchpad is the exact blueprint you need to succeed…
AND You get all of this for only $997USD!
But Let Me Sweeten The Pot For You Even More With These Instant Bonuses For Acting NOW…
Bonus #1: Live Group Coaching Q&A Session
You will get a Live Q&A session at the conclusion of your Masterclass so you can get all your questions answered and give you 100% confidence to launch your trading.
Bonus#2: Trading Plan Toolkit & Training
You will also get access to the most comprehensive trading plan workbook and training on the market, so you can build a robust, professional trading plan that any trader would be proud of. I will show you the 8 critical components of a rock-solid trading plan and lead you through the process step by step!
This bonus alone is worth the small cost of tuition!
Bonus #3: System Trader Launchpad Online Program
When you join System Trader Launchpad LIVE, you also get immediate access to the System Trader Launchpad online program so you can get started immediately and then cement your knowledge with the LIVE Masterclass.
Bonus#4: 60% Discount on the Amibroker Launchpad Companion Course
You will also get an exclusive 60% discount on my Amibroker Launchpad companion course so that you can quickly master Amibroker, charting, backtesting and coding to even further accelerate your trading journey. Amibroker Launchpad consists of over 50 short tutorial videos explaining everything you need to know, step by step so you can quickly master this powerful trading software!
As you can see, these bonuses have a total value of $1189…
But they're yours FREE when you act now!
And you have nothing to lose because the program comes with a special, zero risk 30 day, money back guarantee…
"If System Trader Launchpad doesn't show me exactly how to make money by spending just 30 minutes a day trading… if it doesn't take me by the hand and show me step-by-step build wealth & freedom… or if it fails to help me trade with confidence knowing your my are profitable, then I understand that I will receive a full refund, No Questions Asked!!!"
As you can see all the risk is squarely on my shoulders, so….
Here's How To Order Right Now
Go ahead and click the button below and join System Trader Launchpad and you'll be on your way to enjoying all the benefits we've talked about here and more! Let's get started right now!
Remember – You are only one trading system away,
Adrian Reid
P.S. – Every day you trade without a proven trading system puts your account at risk and reduces your future wealth. Take action now and become a profitable systematic stock trader in just 3-6 weeks by joining System Trader Launchpad Now!
Act now before the price goes up!
THE SYSTEM TRADER LAUNCHPAD
"Launch Your Systematic Trading Portfolio with Rock Solid Confidence In Just 6 Weeks"
Your Instructor: Adrian Reid 
Professional Stock Trader, Founder of Enlightened Stock Trading
and Trusted Trading Mentor with Students across Australia, Asia, USA and Europe
Introducing The System Trader Launchpad…
The System Trader Launchpad is a 6 week Masterclass which will get you up and running as a systematic trader fast!
Both LIVE and online sessions are highly engaging and quickly guide you through the core elements of becoming a profitable systematic trader.
Each session contains highly focused training along with comprehensive Q&A to ensure you get started with maximum confidence.
In this 6 Week Masterclass I will guide you through a step by step process to set you up as a systematic stock trader. 
During the 6 week program you will:
​Discover how you can profit from stock trading systems
​Establish a simple, stable and cost efficient trading setup so you can avoid the time, frustration and high setup costs
​Trade from anywhere you have internet in 30 mins a day
​Eliminate 'busy work' and focus only on the core activities that actually make you money
​Learn to backtest your trading rules for maximum confidence
​Start managing your trading systematically so you can trade stress free
You are new to systematic trading and want to get started quickly
​You don't want to waste time trying to figure out all the details on your own
​You want to trade from anywhere in just 30 mins a day
You want to set up the right trading software and data trouble-free
You are ready to build momentum and achieve your trading goals
​You are ready for a simple, repeatable and fast daily trading process to improve your results
CLICK HERE TO REGISTER NOW!
Read What Other System Trader Launchpad Students Are Saying…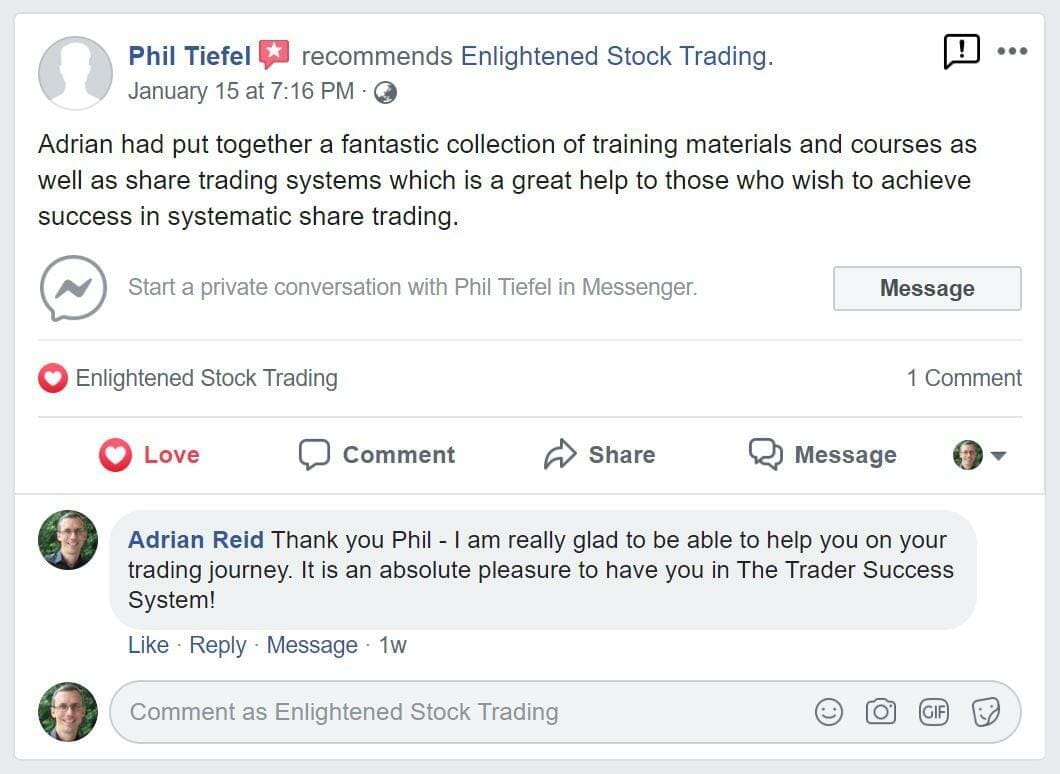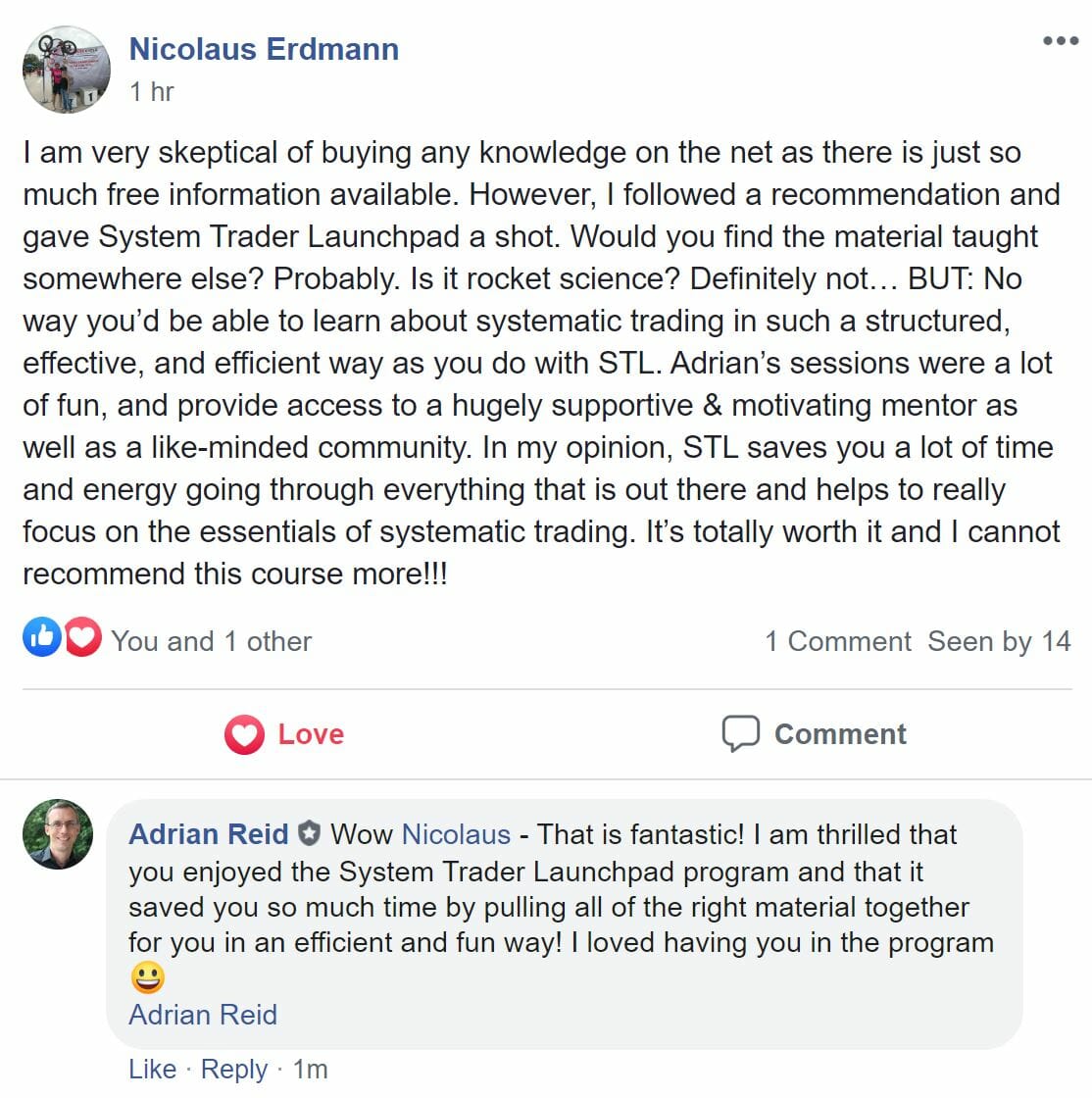 Stock Trading Course For Beginners