Mean reversion trading is a popular and profitable trading strategy that can be applied to many different financial markets. Mean reversion is the tendency for something to move or oscillate around some average or mean and revert to that mean. And so, if you look at a stock chart, you'll often see a trend that happens, a primary trend either up or down, sideways, or around that trend; the price oscillates or fluctuates. Mean reversion is the tendency for it to move below that trend and then bounce back to the average or move above that trend and spring back down to the average.
Looking at the chart of the S&P 500 Index from the US Stock Market above, you will see I've just got a 20-day exponential moving average drawn in this chart in red, and then you can see the red down days, the green up days. If you look at the price, the price tends to move above the average and then snap back in an uptrend and bounces back. And then in a downtrend, it moves down and intends to snap back, then moves down again, and tends to snap back. This is what we talk about as mean reversion.
You can create a system around this concept of mean reversion, you can get a high win rate in your system and generate relatively smooth returns because reversions of the mean are very reliable. It happens constantly because stock prices are always oscillating around the primary trend. So if you can capture that, you can generate a great trading strategy.
How Mean Reversion Trading Strategies Work
Think about an elastic band — we know that stock prices tend to move in trends, but those trends are not a straight line. The price will oscillate above and below the trend, and when the price moves below the trend, it's like an elastic band being stretched which tends to snap back. When the price moves above the trend, it's like the elastic band being stretched in the other direction, and it will tend to snap back. This is precisely the behaviour that your mean reversion trading strategy is looking to capitalize on.
There is a real edge in mean reversion because trends move in waves rather than straight lines. This is ubiquitous behaviour that you can see on pretty much any chart. The trick with a mean reversion trading strategy is to know when the elastic band is stretched above the trend enough to go short and when it is stretched below the trend enough to go long… plus when is it safe to trade mean reversion on the long side vs on shorting a stock that is overbought.
Example Mean Reversion Trades using Relative Strength Index
What I want to demonstrate now, is a simple set of indicators that give you a feel for how these trading strategies work on the chart. In concept, we're going to sell short when it's overstretched above the trend, and we're going to buy when it's overstretched below this trend. But when does that happen? One of the simplest and most common indicators used for mean reversion trading strategies is the Relative Strength Index (RSI).
I've got a chart of the S&P 500 index and plotted underneath it is the two-period RSI. The two-period RSI is beneficial for mean reversion because it identifies very short-term periods where the price is oversold or overbought. Shown on the chart is a period where there's been a downward trend in the S&P. I'm determining the downtrend, looking at a long-term moving average, a 200-day exponential moving average, and a 20-period exponential moving average. There's no magic in these exact numbers, however, it's a downtrend when the short-term moving average is below the long-term moving average.
To get an edge in your mean reversion trading strategy, you want to ensure that you are trading in the direction of the primary trend. In the case of the chart shown previously, the primary trend was down. Thus, we're going to be looking for opportunities to go short. If the primary trend were up, we would look for opportunities to go long.  On the chart below, if the primary trend is down, we want to find areas where the price is overextended up and ready to snap back. Just like our elastic band, when the trend is down, we're looking for it to be overextended up, and we're looking for it to snap back.
Here is a perfect example of what we're looking for in mean reversion trading strategies on the chart of the S&P 500 Stock Market Index below. The price has moved down quite strongly, found a base, and then rallied quickly over three days, all the way back above the 20-period exponential moving average. After that, it consolidated for a bit and collapsed back down in the direction of the trend.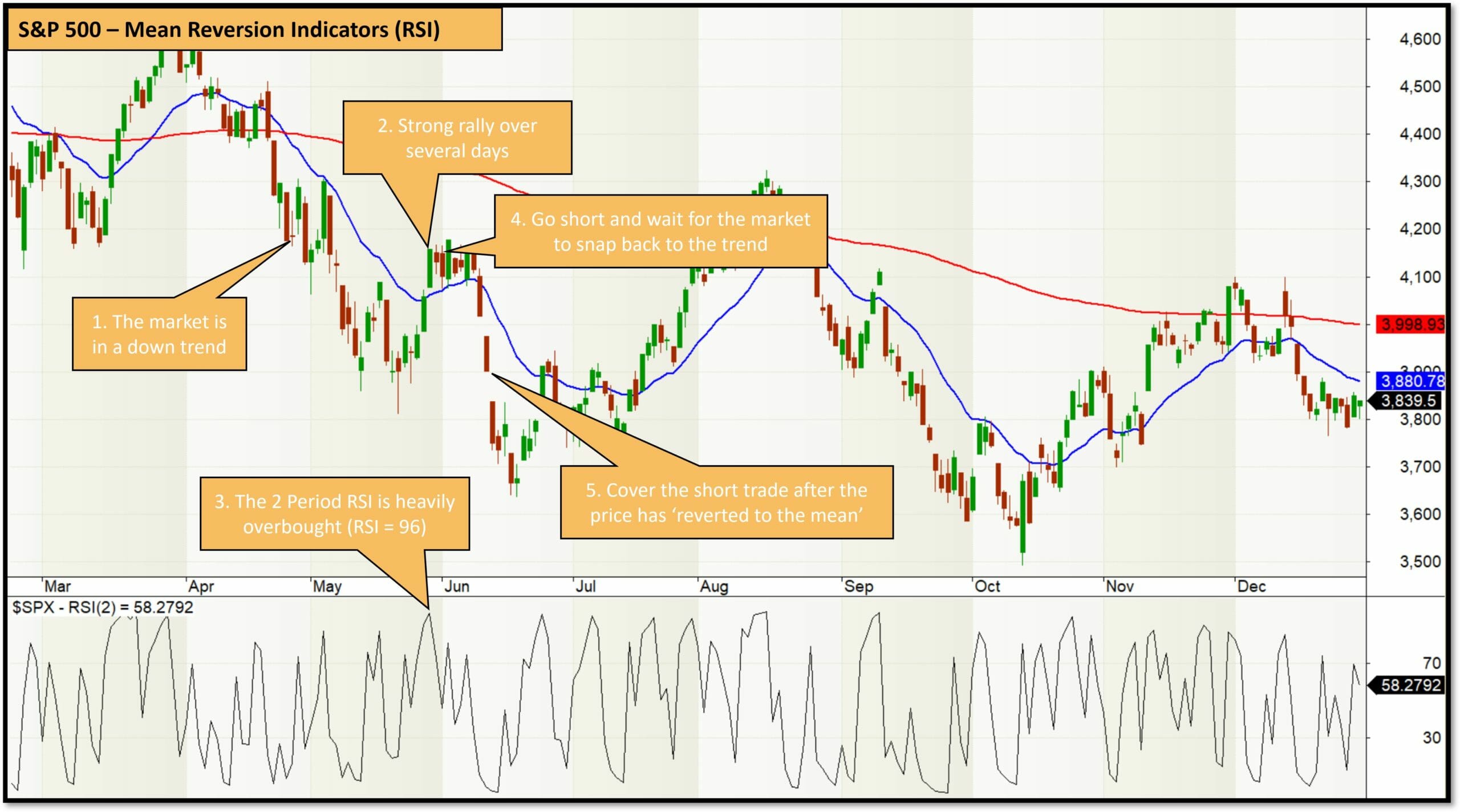 So how do we identify this sort of move in real time?
Have a look at the two-period Relative Strength Index (RSI) at the bottom of the chart. To go short the market using a mean reversion strategy we are looking for a point on the chart where there's a downtrend in place, and the two-period RSI is extremely overbought. That means the price has rallied heavily, for over a short period of days, to a point where it's now very overbought and much higher than it has been in the recent past. At that point, in a downtrend when there's been such a strong rally, it's very likely for that to experience a reversion to the mean, and you can make a profit by going short.
On the chart above (3), you can see that the RSI two got to a value of 96, which is highly overbought because the price rallied very strongly over three days up to this level. At this point, in the downtrend, it's overboard and very likely to snap back down. Therefore, you could short-sell there and then hold in anticipation of this subsequent decline and then take profits somewhere in this move as shown in points (4) and (5) on the chart.
This is how a mean revision trading strategy works. Identify the primary trend, find a period where there's been a short-term move against the primary trend, get in your trade in the direction of the primary trend, wait for the correction back to the trend, and then get out.
Mean reversion is a short term trading strategy – Holding period is typically 1-5 days on daily charts
The chart below illustrates another example on the S&P 500 Index. There has been a solid rally, and the index is well above the 200-period moving average; you can see these little dips circled on the chart. Wouldn't it be cool if we could buy these up at the bottom of these dips and then benefit from the subsequent rally? This sort of trading can give you excellent short-term profits.
If we look at the chart below, we can see that while it's in an uptrend, the RSI two got down to as low as 1.7, which is quite oversold. If you had a signal to buy that instrument when the RSI two dropped below 1.7 or 1.8, and you just bought it then and held until the price rallied one or two days, then you're going to capitalize on this sort of move. Therefore, we've got strong down movement, you get in and then have a couple of days of rally. The same thing happened on the others.
Mean reversion trading relies on these components:
First, identify the primary trend
Second: Find an overbought or oversold condition, enter in the direction of the primary trend
Third: Exit several days later or one to three days after the move has snapped back in the direction of the primary trend.
That's how mean reversion trading works. If you want to develop a mean reversion trading strategy, you need those components.